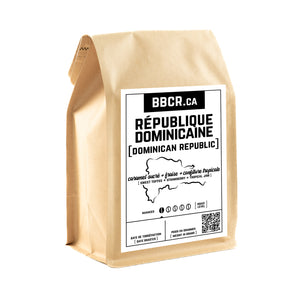 TASTING NOTES


Toffee sweet with, strawberry and tropical jam, and floral undertones in the aroma.
Discover the rich taste of the Caribbean with these Winey processed coffee beans from the Nuevo Mundo Estate. Cultivated at 1400-1500 meters in the Sierra Central region of the Dominican Republic, these beans undergo a unique Winey process. This processing method involves leaving the coffee cherries to dry with the fruit pulp still attached, allowing the beans to absorb more of the fruit's flavour, resulting in a distinct tropical jam and toffee sweetness.

The aroma of these beans captivates with a sweet fragrance of strawberry jam with floral undertones, complemented by a lingering aftertaste. The coffee impresses with its fruity acidity and smooth yet full body.
The quality of the Nuevo Mundo Estate coffee is deeply rooted in its Caribbean heritage and embodies the region's vibrant energy and rich history, offering a unique experience that transports you straight to its sun-kissed landscapes. Under the leadership of Mr. Alfredo Diaz, the estate has embraced practices, including a meticulous cultivation process, that celebrate and preserve this heritage, resulting in a product that reflects its origins. This commitment to quality and the unique Caribbean charm results in a great coffee you want to experience.
To highlight the rich flavours of the Caribbean, we have opted for a light roast. This particular roast is very well suited to manual and automated drip as well as immersion style brewing (French Press, AeroPress).
As a limited edition, this Dominican Republic single origin coffee is only available in 454 g bags, while quantities last.
Country: Dominican Republic
Region: Sierra Central
Farm: Nuevo Mundo Estate
Variety: 100% Arabica (Caturra)
Process: Winey / Fermentation
Altitude: 1450 metres above sea level

Meilleur Café
De loin le meilleur ☕️ et le service rapide et très efficace directement à ma porte, du gros bonheur!!!
Complex but acidic
Almost great, some nice flavours, but a bit too acidic/sour for my taste, although it doesn't have a sour finish which helps.
Delicious
The coffee is exactly as described. Upon opening the bag you know you are in for a treat, the aroma is truly strawberry jam. The taste is lightly jammy with very little bitterness or apparent acidity. As Marc-Antoine said, almost like a fine tea.
Un goût qui s'est développé
Très goûteux et doux. Il ne dégage pas d'acidité. On a presque l'impression de boire un thé. Il est bien réconfortant.