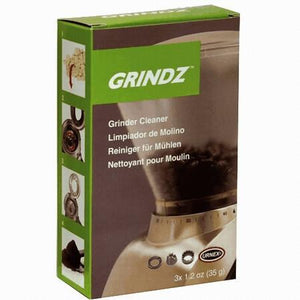 Urnex Grindz is the worlds first and only product for cleaning coffee grinders. The product is an all-natural, food-safe, and flavor neutral combination presented in coffee bean shaped tablets. It instantly and effectively removes stale coffee residue and flavored coffee odors from the internal burrs and casings of coffee grinders. Requiring no grinder disassembly, simply run the coffee bean shaped tablets through your grinder just like coffee and every cup of coffee will be as fresh as the last!
Cleans grinder burrs and casings with no disassembly required.
Removes stale, built-up coffee oils, colors, and odors.
Great for removing flavored coffee tastes when switching coffees.
All-natural and completely food safe.
One box contains 3 (35 grams) single-use packets.
(Please note: Urnex Grindz is NOT suitable for use with super automatic machines. It is ONLY for use with stand-alone grinders)