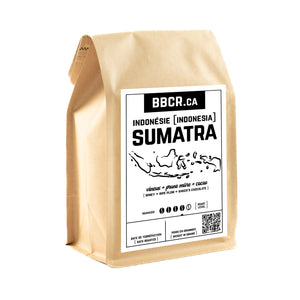 TASTING NOTES:
winey
ripe plum
baker's chocolate
This coffee is grown in the high altitude and volcanic soil of the Java Jampit Estate. Java has been an important destination in the coffee trade for over 300 years, since the introduction of arabica coffee to Indonesia. Established by the Dutch in the 18th century, the Java Jampit Estate coffee farm is one of Indonesia's most renowned and highest-quality coffee plantations. Unlike most processing from Indonesia, the coffee from Jampit is fully washed, which gives the coffee a clean, balanced profile. Harvesting is done by hand, the wet method is used for cultivation and the coffee is dried by the sun. After dry milling, the beans are hand sorted and any defects or broken beans are meticulously removed. Such activity results in an incredibly consistent and reliable coffee with great character. We are delighted to offer this top grade Indonesian coffee!
As a medium dark roast, our Sumatra (Indonesia) single origin sits at 10 on the Roast Vision Scale and 49 on the Agtron Gourmet Colour Scale laid out by the Specialty Coffee Association (SCA).
ROASTER'S NOTES:

Winey, ripe plum and baker's chocolate
Species: 100% Arabica
Process: Sun-Dried, Washed
Roast Level: 49 Agtron Gourmet, 10 medium dark
Brewing Recommendations: Drip, Immersion
Not your Average coffee
I did a review and only gave it 3 stars but I was wrong!!! This coffee bean is created with love and care by a company committed to quality.
I have spoken to the customer. She had left a 3 star review by accident when it was meant to be 5 stars. Unfortunately it got changed to 1 star, when she meant to change it from 3 to 5. Her and I have spoken. As the company I have no way of manually changing it on her behalf, and she is having some difficulty changing it to 5 stars. I thought it important to close loop on this for those who may see this 1 star - it was an accident. We do very much appreciate Diane's review though - thank you!
Very good
This bag wasn't as great as the previous one but still very good
Sumatra Coffee
This coffee is delicious.
Very smooth!
I really like the Sumatra beans. Compared to others, they are not oily which I appreciated. And with my regular V60 method, the cups turned out sweet and smooth.
Amazing!
My two favourites - this and expresso blend.