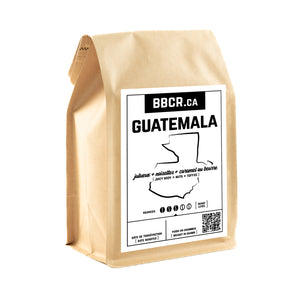 TASTING NOTES:
juicy body
nuts
toffee
A fan favourite and a must try, this Guatemala has a full, juicy body that is complemented by sweet notes of assorted toffee covered nuts - a real treat! Part of the reason for all this complex sweetness is due to the tropical climate accompanied by towering mountains and volcanoes that create a natural pathway for numerous bodies of water and riverways, aiding in the high humidity and forest biomes.
Coffee shrubs and trees are grown on these volcanic slopes and they simply love it. The moisture-laden fog brings in all sorts of water-soluble nutrients that feed and enrich the soil and leaves, helping the berries ripen and a gradual pace to encourage the sweetness mentioned above.
Most farmers harvest and process their own beans as some regions are so remote, transport and labour can't make it there on a daily basis during harvest season. Fortunately, they are able to use the fresh mountain water during the washing and milling process to prepare the beans for drying and selling.
This roast is best enjoyed as drip and immersion. An espresso is recommended for those who enjoy a lighter tasting espresso or espresso based drink.
As a medium roast, our Guatemala single origin sits at 16 on the Roast Vision Scale and 67 on the Agtron Gourmet Colour Scale laid out by the Specialty Coffee Association (SCA).
ROASTER'S NOTES:

Juicy body accompanied with notes of nuts and toffee
Species: 100% Arabica
Process: Washed and dry milled
Certification: Fair Trade Organic
Roast Level: 67 Agtron Gourmet, 16 Medium
Brewing Recommendations: Drip, Immersion
My favorite coffee
I love this coffee. Not being a huge coffee fan, this coffee has won me over. So smooth and rich in flavours.
We love it.
We've tried a few other blends and we love the Guatemala the most. We do milk based espresso drinks, both hot and cold, and we love it. We tend to be lighter on the dairy, but still enjoy the smoothness that it adds.
I've also tried it vis pour over, and have really enjoyed it.
Excellent
Un excellent café pour tout moment de la journée
BBCR Café passon
Nous sommes plus qu'heureux des saveurs que BBCR crée et nous adorrons le style unique de chaque saveur. Merci