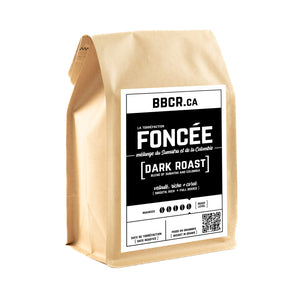 TASTING NOTES:
smooth, rich and full bodied
subtle notes of nut and dark chocolate
smoky finish
We've gone dark! Our dark roast has spurred on a new origin to our collection. Sumatra and Colombia make for a rich, full bodied French press, drip and espresso.

The dark roast blend consists of Sumatra and Colombia. These two beans handle darker roasts really well and provide amazing flavours. You won't find any offensive bitterness and charcoal tastes here - only smooth richness accompanied with amazing notes of nut, dark chocolate and a full, smoky body. For a dark roast we recommend immersion and espresso style brewing. Brewers like French press, AeroPress and even Clever Drippers will complement the roast profile beautifully.


As a dark roast, this blend sits at 10 on the Roast Vision Scale and 49 on the Agtron Gourmet Colour Scale laid out by the Specialty Coffee Association (SCA).
ROASTER'S NOTES:

Smooth, rich and full-bodied
Species: Blend of Arabica
Process: Semi-washed and double picked (Sumatra) and Washed and Machine Dried (Colombia)
Certification: Rainforest Alliance
Roast Level: 49 Agrton Gourmet, 10 Dark
Brewing Recommendations: Drip, Immersion, Espresso
We love the Foncee blend
We have since ordered and received two more 1 pound bags of the same. My first order I gave one the two pounds bags to my coffee loving neighbour, he enjoyed it as well.
My wife and I love the fact it's not bitter like some blends … great product
Cheers
Gary Beaucaire
Deep, rich and smooth
Maybe the best dark roast I've ever had!
BB Dark Roast coffee
Very smooth, non acidic full bodied coffee. Now, I don't like anyone else's coffee anymore.
Thank you so much for the review - we very much appreciate it!
Excellent!
Really good coffee! Will definitely be getting more!
Brown Bag dark roast
I've purchased the dark roast beans several time now via a subscription so it's delivered automatically every 15 days. I use the beans with a cafetière and an espresso machine and I only have good things to say! Terrific beans, terrific service, terrific price! Thank you so much Brown Bag!!