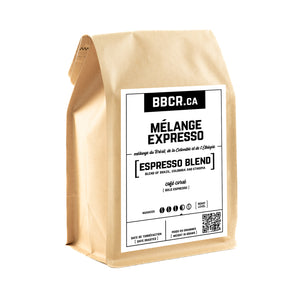 TASTING NOTES:
baked berries
cacao
full body
Comprised of single origin coffees from Brazil, Colombia and Ethiopia, this well-balanced coffee serves as a beautiful espresso to be enjoyed on its own or accompanied with steamed milk (or plant based milk alternative) for a rich, creamy beverage.
As a medium roast, our espresso blend sits at 20 on the Roast Vision Scale and 79 on the Agtron Gourmet Colour Scale laid out by the Specialty Coffee Association (SCA).
ROASTER'S NOTES:

Full bodied with notes of baked berries and cacao
Species: 100% Arabica (Brazil, Colombia & Ethiopia)
Process: Multiple
Certification: Multiple
Roast Level: 79 Agtron Gourmet, 20 Medium
Brewing Recommendations: Espresso, Immersion
Great espresso AND fantastic value!
My favorite
Just like in the coffee shops, of course you need a barista type coffee machine. But this bean is so flavourful.
Mélange Expresso - Finally agree!
My wife and I have rarely been able to agree on an espresso bean that we both love. Thankfully Mélange Expresso has hit the mark and this is our go to daily driver! I look forward to this coffee every morning.
Meh
I would not be able to recommend it. The flavour profile is dull and uninteresting.
BBCR never disappoints
Great coffee cup every time. Order online and straight to your door.