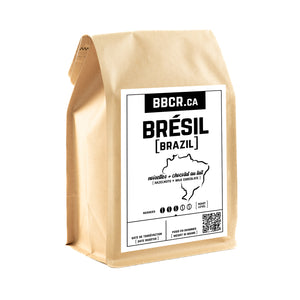 TASTING NOTES:
hazelnuts
milk chocolate
Brazil was one of the first single origin coffee's roasted by BBCR when we launched back in 2017. You could call it the OG of BBCR's specialty coffees. ;)
Recently we made a change with our Brazil beans. A change that we think makes it even better! BBCR has established a relationship with Orange Brown, a green coffee importer that is Brazilian owned and operated. They facilitate direct trade with a tight knit community of specialty coffee farmers. Which means the coffee that is both traceable and transparent. We know where the coffee is coming from and how it has been produced, as well as the local environment and communities. A true farm to cup green bean supplier!
This particular coffee is grown on the Cachoeira farm or "fadenza" located in the Cerrado Region of Brazil. The fadenza, and the tradition of coffee production, has been in the Barbosa Family since the twentieth century. Passed down for many generations, it is currently overseen by Danilo Barbosa and continues to be a family business (husband, wife, father, son, and daughter in law all working together).
Situated at an altitude of 1100 meters above sea level, the Barbosa family has 460 hectares of irrigated fields that provide ideal conditions to produce specialty coffee. Defined seasons, soil and topography -combined with experienced crop management- provide the Barbosa family everything needed to deliver the best coffee. With careful attention to quality, from choice of the varietal to the harvest season, the family is exporting exceptional coffee to North America on the Direct Trade basis with Orange Brown's partnership.
Our roasted Brazil boasts some crazy milk chocolate and hazelnut flavours that reminds us of a delicious chocolate spread with a bold body and great finish.
This Brazil roast can be enjoyed across all brewing methods and is great for any drinking style.
As a medium roast, our Brazil single origin sits at 21 on the Roast Vision Scale and 82 on the Agtron Gourmet Colour Scale laid out by the Specialty Coffee Association (SCA).
From farm to cup, we invite you to discover coffee imported by Orange Brown in Brazil. This coffee is sourced from Brazil 🇧🇷 and each batch is freshly roasted to order in Gatineau, Quebec.
ROASTER'S NOTES:

Hazelnuts and milk chocolate
Species: 100% Arabica (Red Catuai)
Farm: Fazenda Cachoiera
Process: Natural
Certification: Rainforest Alliance
Cupping Score: 82
Roast Level: 82 Agrton Gourmet, 21 Medium Light
Brewing Recommendations: Drip, Immersion, Espresso
Très bon
Vraiment bon. Corsé et savoureux.
Super yummy
Title says it all. This bean is delicious! Chocolate and nut flavour really shines.