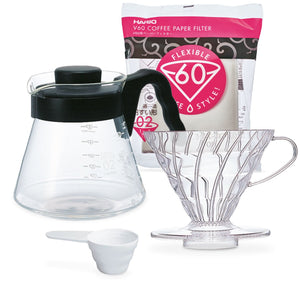 Hario, the industry standard for barista pour over, is now available in a single kit! All in a fancy box!
If you're looking to get started with specialty coffee brewing, or have a special someone you are trying to get into it, then this Hario starter kit is what you want.
Included in the kit:
1 X Hario V60-02 Clear Coffee Dripper

1 X Hario V60-02 Diner Coffee Server

40-pack of white V60-02 filters

Coffee measuring spoon
We're more than happy with our new Hario V60 brewing kit. The carafe is super handy if you want to make 2-3 cups. We love the polycarbonate dripper as well, it's amazing how little heat it retains so your brew stays hotter. Definitely recommended!
Love the fact that we can buy the funnel, carafe and filters all in one convenient package! Makes a great gift. Thanks for stocking this, BBCR!
Great product from a great company.
Makes great coffee and is very easy to clean, quite convenient!