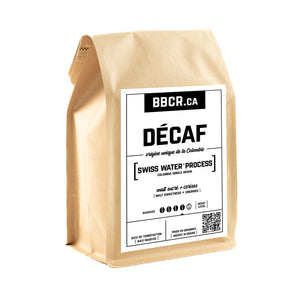 TASTING NOTES:
malt sweetness
cherries
We get asked a lot of questions when it comes to decaf so we are going to try and answer them all in this description.
Any coffee can be decaffeinated and there are two main decaffeination processes: natural and chemical. At BBCR we chose a natural (Swiss Water Processed) decaffeinated Colombian coffee. We found that Colombia had the body and amazing flavour notes that people wanted and chose Swiss Water for the obvious reason. ;)
Swiss Water Process works by bathing green beans in temperature controlled water for a period of time and then being exposed to carbon filters that actually attract the caffeine molecules out of the body of the green, leaving the water and filters full of pure caffeine and the beans 99.9% free of caffeine. (Source: https://www.swisswater.com/)
This allows for way more flavours to remain in the bean when roasting and brewing making it the obvious choice for those who want coffee without the aftereffects. This decaf is enjoyed with any and all brewing methods and drinks.
As a medium dark roast, our decaf Colombia sits at 14 on the Roast Vision Scale and 61 on the Agtron Gourmet Colour Scale laid out by the Specialty Coffee Association (SCA).
ROASTER'S NOTES:

Malt sweetness and cherries
Species: 100% Arabica
Process: Swiss Water Process
Certification: Chemical Solvent Free
Roast Level: 61 Agtron Gourmet, 14 Medium Dark
Brewing Recommendations: Drip, Immersion, Espresso
Not for us...
Bought the bag locally directly at their shop.
Let me start by saying, this coffee is fresh! The crema I get is out of this world. I gave it the time to rest (over 7 days) passed the roasted on date.
Not sure if there's something wrong with this batch, but this coffee is super bitter/sour, kind of both at the same time. I'm brewing this in a Breville Barista, tried short to long shots, they are all super sour/bitter. We couldn't wait to try this one since all the reviews are pretty much 5* across the board. Finally, the beans are pretty light, I would say light to medium roast, no way this is a 4/5 med/dark.
Hey Marc,
Thanks for the feedback, sorry your experience wasn't up to expectations - not what we want!
Based on what you wrote, those notes you are describing are usually attributed to shot prep. Grind, weight and / or tamping. Please don't hesitate to reach out and we would love to bring you in and show you what we do to bring out the great flavour profile.
As for roast level, we actually use a scientific instrument called an Agtron meter to give us the bean and grind roast levels. These correlate back to an SCA grading system and we use the 'bean guide' to give an example of what they are. Based on the Agtron meter it is accurate.
Regardless, wishing you all the best in your coffee journey!
Love this decaf!
I have been drinking it for 5 years now and can't get enough
Best decaf I've found locally
this is the best decaf coffee i've tried! i've developed an intolerance to caffeine and with this roast i don't feel like i'm missing out on flavour or body at all. thanks BBCR!
Thank you so much for the feedback, we are so happy that you love the decaf!