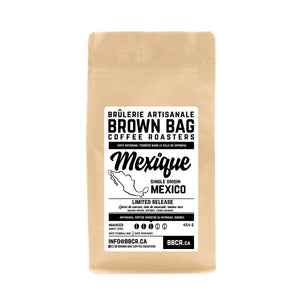 It's baaack! In celebration of Cinco de Mayo! Por favor !
TASTING NOTES:
baking spices
nutmeg
cured raisins
Limited release!
This Mexico single origin is a true classic and we feel we've really done it justice with this roast. With the first few sips, the impression is a sweet and savoury tart packed with amazing spices like nutmeg and cloves that finishes off with sweet raisins that almost seem to be drizzled with a brown liqueur. The aftertaste is very pleasant and really leaves you baffled at the array of flavours present!
A lot of people have asked us to bring the beauty of Mexico coffee back and we finally found the one that really speaks to us. Located at the foothills of one mountain range, the farms lead into a valley where the plantation is spread across 1414 hectares from 800 - 1900 meters above sea level. The beans are amazingly well processed by the farmers' own milling station, making the roasting process very clean and hassle free.
We've been enjoying this medium roast as drip and immersion style drinks but it could be a very unique espresso for those who are curious to try.
As a medium roast, our Mexico single origin sits at 20 on the Roast Vision Scale and 79 on the Agtron Gourmet Colour Scale laid out by the Specialty Coffee Association (SCA).
Please note: our Mexico single origin is a limited release coffee.
Available while supplies last.
ROASTER'S NOTES:
A clean coffee with notes of baking spices, such as nutmeg, accompanied with cured raisins
Species: 100% Arabica
Process: Washed and Sun Dried
Certification: Fairtrade Organic
Region: Villa Corzo, Province of Chiapas
Roast Level: 79 Agtron Gourmet, 20 Medium
Brewing Recommendations: Drip, Immersion
Awesome as always. A little mistake happened with my order which was corrected within the hour.
Always amazing! Best coffee and service!