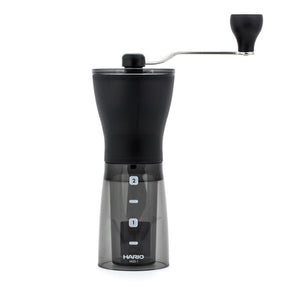 The perfect for travel Hario Slim Hand Coffee Grinder has a new sibling. The Mini-Slim Plus is the transparent black version of the Slim, with a re-inforced grind shaft for an even more consistent grind.
This is the smaller, lower capacity ceramic burr grinder from Hario. Its thin, light construction and removable handle make it ideal for travel. The grind is fully adjustable via a locking nut on at the base of the burr (the bit that grinds the coffee), making it suitable for virtually any brew method, and coarseness is measured via clicks when turned.
The burr set is kept more stable by a spring that sits on the shaft, leading to a more uniform grind.
Capacity: ~24g
Weight: 257g
Materials:
Nylon Washer, Hopper Shaft Cover, Pin and Grind Adjustment Nut
Ceramic Inner and Outer Burr
Stainless Steel Shaft, Screw Section, Spring and Handle
Methacrylate Resin Cover and Bottle
Polypropylene Handle Grip, Center Cap and Hopper
Just perfect for my small use of fresh coffee. I'm the only coffee drinker in my house so it is good for me hario v 60 and aeropress.
It's a great piece of kit, perfect for my pour over and aeropress at home. They've managed to fix a few of the problems present in the older models very nicely! recommended buy!