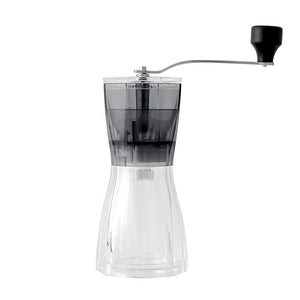 A hand grinder is an essential part of anyone's travel/office kit, and this is a great entry level grinder, ideal for the job.
This is the new Octo grinder, its lightweight construction and removable handle make it ideal for travel and the unique shape gives it a larger capacity than similarly sized hand grinders.
The grind is fully adjustable via a locking nut on at the base of the burr (the bit that grinds the coffee), making it suitable for virtually any brew method, and coarseness is measured via clicks when turned.
The burr set is kept stable by a spring that sits on the shaft, leading to a more uniform grind. And a nifty little anti-slip pad on the bottom will keep this baby from sliding around while you're looking the other way.
Capacity: ~36g
Height: 21.3cm
Diameter: 7cm
MS Resin Body and Lid
Polystyrene Hopper
Polyacetal and Iron Grind Adjustment Knob
Stainless Steel Handle, Shaft and Spring
Ceramic Burr Set
Made in Japan