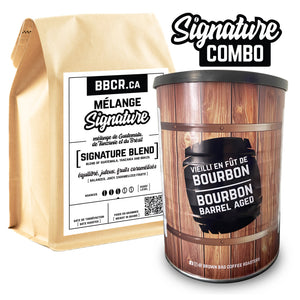 Why not make it a combo?
Special offer: The Signature COMBO includes one (1) 340 g can of Bourbon Barrel Aged Signature Blend coffee AND one (1) 454 g bag of Signature Blend coffee. A $49.50 value for only $45! Sweet!
Both of these coffees use the same blend of single origin coffee beans (from Guatemala, Tanzania and Brazil). One has been aged in an oak barrel. This combo is perfect for a side by side comparison to discover the nuances of each!
Please note: Bourbon Barrel Aged Signature Blend is a limited edition coffee. Quantities are limited!
Great Coffee!
Bought the Signature Combo recently and it was really great! Will definitely be shopping by for more kinds!