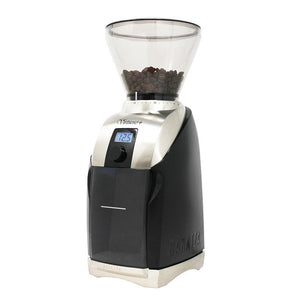 You know that Baratza Virtuoso grinder that you've loved for years and years? Well, Baratza just made it even better.
Available for the first time in Canada, we're pleased to introduce the Virtuoso+, an upgrade and replacement of the current Virtuoso.
In response to customer requests, Baratza have updated the timer switch for a digital display and kept all the other trusty parts the same. The 40 second digital timer allows you to easily set a repeatable dose. And with intuitive adjustments to the tenth of a second, the every day grind just got even better. This multi-purpose grinder is the step-up for the advanced coffee lover.
The high performance burr set reduces the fines in all levels of grind which gives a clean (café quality) taste in the cup, while the digital interface allows for easy, time-based dosing. With an elegant and attractive metal casing to accentuate your coffee corner, this is a brewing tool that will fast forward your coffee journey with consistency and reliability.
SPECIALTY COFFEE ASSOCIATION AWARD WINNING GRINDERS - Baratza grinders are preferred by coffee professionals and backed by Baratza's world class support.

DIGITAL TIMER and BACKLIT GROUNDS BIN - a 40-second digital timer, adjustable to a tenth of a second, and an LED backlit grounds bin to dose ground coffee accurately and consistently.

40 GRIND SETTINGS - With enhanced commercial-grade conical burrs to help you explore an extensive range of brew methods (espresso, Aeropress, Hario V60, Chemex, French Press, and automatic brewers).

STYLISH - A sculptured metal top and base give the Virtuoso+ a modern image that highlights your coffee corner.

WARRANTY/QUALITY PARTS - Engineered with 40mm hardened alloy steel burrs manufactured in Liechtenstein, Europe, plus a powerful DC motor. This combination creates a consistent grind and durability ensuring the longevity users have come to expect from the Baratza brand. The Virtuoso+ is backed by Baratza's world class support and a 1 year warranty.
** Please note we don't keep a large supply of grinders in stock. All grinder orders will take approximately 7 business days to ship to you. Once your payment is placed we will ship one immediately from our warehouse. We appreciate your understanding.**
The Baratza Virtuoso+ and the Baratza Encore are basically the same grinder but the Virtuoso has a very precise timer. The grind quality in both are excellent but having the timer was very helpful for me. The Encore is now moving to the cottage to replace my highly inferior low end grinder. I'd also like to add that Brown Bag Roasters have been excellent to deal with and I hope some day to visit their store.
The baratza virtuoso coffee grinder works perfectly, could not be happier. Fast shipping, great seller.